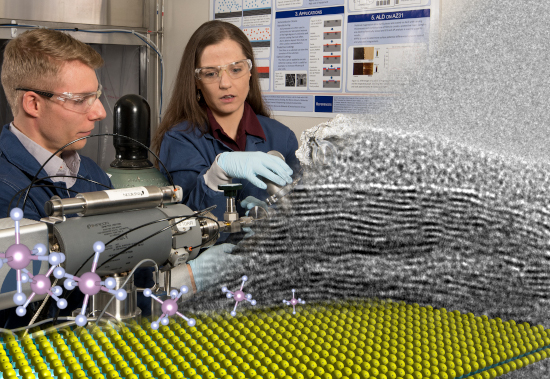 Atomic Films Laboratory
The Atomic Films Lab works to develop thin film deposition and characterization processes and to apply thin film coatings to a range of applications. A key area of our research is the development of atomic layer deposition (ALD) and atomic layer etching (ALE) processes for atomically-thin two-dimensional (2D) materials, which may be only a few atoms in thickness.
Our interests lie in developing new ALD processes for materials with potentially useful properties. Often, it is necessary to understand the chemical reactions at a fundamental level in order to establish a reliable ALD process. To gain this fundamental understanding, we develop and employ a range of characterization tools. Some of our tools are listed on the Facilities page, and you can learn more at the ALD and SPM pages. We also collaborate with many other groups who provide complementary capabilities and expertise.
People are the most important part of what we do. We are fortunate to have a group of outstanding students, faculty, staff, collaborators, and mentors, all with diverse perspectives and unique experiences. We challenge and support each other in an open, collaborative, respectful, and fun group culture in which we all value the pursuit of knowledge.
We are grateful for the research support we have recived. Without this support, none of what we do would be possible. Funding for our research has been provided by the Semiconductor Research Corporation, the Micron Foundation, the W.M. Keck Foundation, the National Science Foundation, the Department of Energy, the M.J. Murdock Charitable Trust, the NASA Idaho Space Grant Consortium, Battelle Energy Alliance, the Osher Institute, and private industry.
---


Please feel free to contact us.